History of the Greene Public Library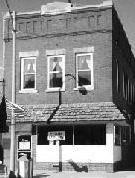 In 1872, seven years before the town of Greene was incorporated, a modest beginning was made towards building a public library. Articles of Association were adopted January 10, 1874. Money was raised by putting on entertainments, and those having books to spare, donated them. Effective March 1, 1926, The Library Association passed a resolution authorizing the transfer of all library property to the town of Greene. At that time, a board of library trustees was established and the library became a tax supported institution. County funding for public libraries was first introduced in 1962 and Board members voted to become members of the Iowa Library Association in 1970.
The library was first housed in Mrs. Fowler's Millinary Store, then moved to the Post Office, then to Greene's Law Office on the second floor of the building where Dralle's now stands. In 1929, Mr. C.M. Mather gave a building on main street in memory of his wife, Laura Mather, to be used for the library. In the early 1980's, serious thought was given to building a new library. After many planning sessions, a new building became a reality and was completed on July 15, 1984.
A permanent endowment fund was established when Judge George Greene of Cedar Rapids gave the Library Association 20 shares of stock in the Union Bank of Cedar Rapids on January 17, 1874. Contributions to this fund have been made throughout the years and enabled the library boards to provide excellent library service. A Greene Public Library Teen Board was organized in 1973 by Jean Nordmeyer and included four members. By 1984, this board had expanded to include sixteen members with two boys and two girls from each high school class. Their advisors through the years have been Jean, Mary Smith, Bonnie Sneed, Cynthia Siemons, Marnie Schmidt, and presently Dorothy Leavens.
Former library staff members: Cora Lyford, Florence Glodery, Mrs. R.W. Jordan, W.W. Riner, R.G. Tyler, Mrs. E.A. Curtis, O.C. Perrin, Mrs. J.P Ayer, Mrs. C.C. Huckins, Mrs. J. Keaster, Eugenia Glodery, Nellie Lyford, C.B. Weston, C.F. Blasier, Walter Greene, Marian Hodgdon, Ethel Fiddick, Mrs. George Hesalroad, Mrs. Choice Sprowl, Mrs. Delpha Wilder, Alice McEwen, Hazel Ray, Marian Hardman, Mary Pyle, Blanche Mather, Jean Nordmeyer, Mary Smith, Paulette Moser, Donna Wunsch, Jo Ellen Sturm, Mary Freeseman, Paula Ubben, Marlo Green, Renee Peck, Bonnie Sneed, Bev Kester, Becky Newton, Marnie Schmidt, and Cynthia Siemons.